BYOD Privacy Concerns Push Security Admins Away, Says Report
- While there may be a slight push for mobile devices and Bring Your Own Device (BYOD) policies, a recent survey shows that BYOD privacy concerns are pushing away end users and even IT security administrators.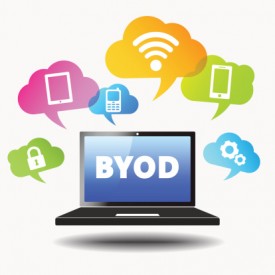 The majority of individuals are hesitant to participate in Mobile Device Management (MDM) and Mobile Application Management (MAM) options because of certain restrictions or privacy concerns, according to the Bitglass 2015 BYOD Security Report. Furthermore, the survey found that 40 percent of security administrators chose not to participate in the same mobile policies that they enforce for their company.
"BYOD holds great promise for employee productivity and cost savings, but architectural challenges introduced by the first wave of solutions have inhibited adoption," Bitglass CEO Nat Kausik said in a statement. "Going forward, BYOD programs must comprehensively address privacy concerns while allowing users to maintain control over their personal data. Agentless, data-centric mobile security solutions solve these challenges and represent the next-generation of mobile security."
In two separate surveys, Bitglass interviewed 2,242 employees who carry smartphones and/or tablets, as well as IT security professionals who understand the BYOD and mobility programs within their organizations.
Even with BYOD privacy concerns, the majority of IT professionals and regular employees stated that they would participate in a BYOD program if their employer was able to protect corporate data but could not view, alter or delete personal data and applications. Sixty-seven percent of employees felt this way, while 64 percent of IT workers stated the same.
"Users want the ability to work from anywhere, at any time and from any device," the report's authors explained. "But they also fear 'big brother' snooping into their personal applications, which is why they are revolting against BYOD programs en masse."
To that point, the report showed that 78 percent of employees said they are not likely to participate in a BYOD program if their employer can view personal applications/locations, while 64 percent said they would not participate in a work BYOD program if their employer can wipe their personal mobile device to protect their proprietary information if they leave the organization.
.However, IT professionals are also hesitant over MDM and MAM software being installed on their personal devices. Specifically, 38 percent of those surveyed stated that they do not personally participate in their own BYOD programs because they do not want software on their personal devices.
"Personal privacy issues, changes to the user experience, and complicated deployments have slowed down BYOD adoption, causing many to question BYOD's future," wrote the report's authors. "In order to meet the needs of both IT security and employee needs, ensuring secure, widespread adoption of BYOD in the enterprise, it's time to for a data-centric approach to mobile security."
This report is similar to a Spok survey that was published over the summer. As reported by HealthITSecurity.com, Spok found that healthcare BYOD use is declining due to health data security concerns. Specifically, 81 percent of those who do not have a BYOD policy in place said that it's primarily due to the importance of health data security.
"Looking to the future, leaders are seeking broader solutions to facilitate better transfer of information for comprehensive workflow improvements and optimal patient care throughout the hospital facility," the survey explained. "BYOD is a small piece of a much larger puzzle that is taking time for many institutions to frame and fill in the pieces."